Our 47-year history is full of memorable moments. We started with a lot of enthusiasm, passion and effort. We have witnessed the evolution of the sector, society and the needs of our customers. We are constantly learning and improving from them.
We are living through very important changes, where technology is an essential aspect. At Aries Communication Group, we believe that the best way to face the present is to combine knowledge of technology with the people who implement it.
COVID19 proved our commitment to digitalization. We were ready to continue serving our customers with the same speed and quality as usual.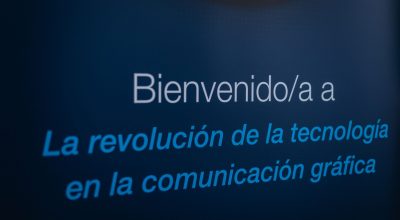 We invest in technology, bringing innovation to digital printing for short runs by incorporating the second Jet Press machine in Spain.
Throughout this year we have acquired more facilities and added more processes to provide more services, so our customers can be assured that the whole process depends on us. The new services are:
Binding: Wire O, Cola Pur, Spiral.
Finishing: Die cutting, laminating, shrink wrapping and gumming.
We have added new digital printing machines to our 5,000+ square metre facility.
We integrate combined variable data printing services to personalise documents, brochures, boxes, logos, addressed to a specific recipient. Fully personalised communications to increase response rates.
Our respect forthe environment has led us to incorporate technology that reduces waste: CTP with chemical-free technology.
In addition, the communication group received the "Work-Life Balance" award from Pinto City Council. We are a responsible company.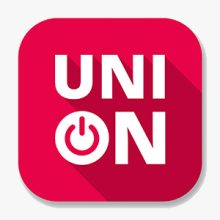 Cañizares Artes Gráficas, Sidecprint and DinaPrint join the communications group in this new stage of reinvention of the graphic arts, thanks to the consolidation of the UniON project.
Avoluntary international initiativethat aims to achieve a commitment to CSR by organisations through the implementation of ten principles.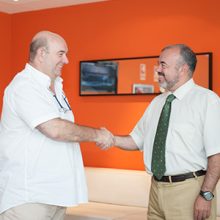 The economic situation calls for a paradigm shift. We are launching the UniON project, which aims at a new business approach in the graphic arts sector.
The Aries Communications Group takes on its first strategic partner: Imagen.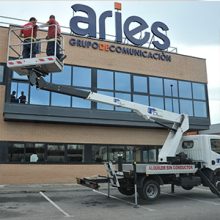 We have started to evolve into the new concept of a communications group, with the aim of being able to offer a complete strategic marketing service. In this way, we can be at our clients' side both in their production work and when it comes to designing the essence of their brand.
In line with our values, we understand the need to work towards internationally recognised standards such as ISO 9001:2008 and ISO 14001:2004 and are implementing a project to meet the specific chain of custody requirements set out by FSC® and PEFCTM. At Aries, we always want to participate in reducing our impact on the environment In addition, together with university professor Manuel Buendía, we have written the book "Marketing ecológico, ¿a quién le importa?" (Ecological marketing, who cares?) and it was presented at CONAMA (National Environmental Congress).
Our successes and achievements lead us to thank our customers and suppliers for making our project possible. That is why we organised an event in which we showed our firm intention to adapt to the new times and their needs.
The strategic creative agency with online and offline experience. It was born from the incorporation of professionals with consolidated experience and know-how in marketing and communication.
In order to go a step further in the world of graphic arts, and in order to offer a more complete service to our clients day after day, we include the binding service. We incorporate technological resources into our structure in order to offer the client a finished product.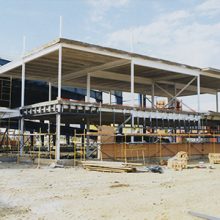 As we continue to grow, we move to our current facilities, built and designed specifically to support the graphics production line and to be able to integrate future business areas into the company's operations.
The National Film Archive is 100 years old and we are here to celebrate it. For this purpose, a book with the most important films and a prologue by Fernando Vizcaíno Casas is being produced. The event is being held at Foster's Hollywood to coincide with the opening of one of its restaurants.
Thanks to the expansion of our range of products and services, we have achieved a solid consolidation of the business. To commemorate this moment, an event is organised, sponsored by Antonio Mingote, who illustrates during the event and offers us one of his works.
Little by little, and thanks to the efforts of the whole team, important clients put their trust in us.
Good management of talent and resources has enabled the company to increase the number of clients and the volume of work. As a result, and to fully meet the needs of all our stakeholders, we moved to a new facility with greater production capacity.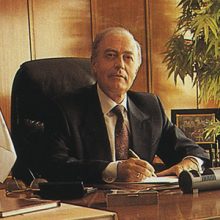 Antonio Martín Sr. founded Gráficas Aries, an idea that, despite its limited resources, was born with enthusiasm and projection into the future.